Our Editors independently research, test, and rate what we feel are the best products. We use affiliate links and may receive a small commission on purchases.
Whether you're burning some serious calories or just looking to keep your endurance up, spinning is one of the best forms of exercise you can do.
While spinning classes are fun, you can get all of the benefits right from the comfort of your own home! However, there are tons of spin bikes available on the market today.
That's why we spent over the past month researching countless models to bring you the best indoor cycle bikes currently on the market.
We know you're eager to get started, so let's jump right in!
Best Home Spin Bikes
---
Quick Answer: The 7 Best Rated Indoor Cycling Bikes
Our reviews to the top rated spin bikes with our comparison table and buyers guide will help you choose the right indoor cycle bike for you.
---
Spin Bike Reviews
Sunny Health & Fitness ASUNA 7150 Minotaur at a Glance
:
---
Resistance: Magnetic, 33-pound flywheel
Pedal Type: SPD pedals / Toe Cage
Weight Capacity: 330 pounds
Bike Weight: 132.8 pounds
Other: Dual water bottle holders
Let's start off strong with the best magnetic resistance spin bike: the Sunny Health & Fitness ASUNA 7150 Minotaur Exercise Bike.
Sunny Health & Fitness just can't be beat when you are looking to save some cash but still get a great product. The commercial indoor cycle stands out for its unique looks and excellent performance.
Heavier flywheels are going to give you a smoother ride – needless to say the 33-pound flywheel on this bike is very consistent and stable, creating momentum for longer periods of time which will help keep you going too.
To change up the intensity of your ride, all you have to do is turn the convenient tension knob. This lets you adjust it with incredible precision so you always have enough of a challenge to conquer and can meet your goals at a quicker pace.
With caged/SPD-compatible pedals you'll always have proper foot placement and excellent security so you can pedal full-speed without worrying about your feet slipping off.
Dual water bottle holders may seem a bit "much" at first, but when you're really working out you'll realize that this kind of hydration is absolutely necessary!
Parallel seat rails run alongside the under part of the seat which allows for extra comfort and stability while ergonomic handlebars ensure you never have to worry about callouses nor hot spots.
---
Keiser M3 Indoor Spin Cycle at a Glance
:
---
Resistance: Magnetic, Poly V belt
Pedal Type: Toe Cage
Weight Capacity: n/a
Bike Weight: 85 Pounds
Other: Bluetooth technology, device holder, water bottle holder
Next up is the Keiser M3i Indoor Cycle Bundle which has quite a lot to offer. If you're in need of the best commercial spin bike, then look no further – we have you covered with this bike!
Earning an impressive reviews on Amazon, we aren't the only ones who love this model either!
Right away, it's easy to see that this bike is on a different level than most. The frame is incredibly unique and is sure to turn heads – not just the shape and design, but the color scheme.
The frame is Raven black which looks very sleek, complemented by a red-and-silver wheel and red branding on the frame.
The industry's first V-shape frame isn't just cool to look at, though. It also allows the M3i to near-perfectly replicate various road-bike frames by letting the seat and handlebars to be raised simultaneously to work with riders of all sizes.
In fact, the unique frame accommodates people standing anywhere from 4'10" to 7' tall!
Keiser M3i Indoor Bike | Built Entirely Around You
Using magnetic resistance, it's an incredibly smooth and silent ride. The Poly-V belt is only found with this brand is the choice of automotive manufacturers and is the cornerstone to their drive train design.
It may be simple and elegant but this cycle is extremely durable, virtually maintenance-free, and really works.
The US-made indoor bike features caged pedals and it's made to ensure the cage underneath always stays parallel to the ground, never hitting the ground/floor. The curved crank arms also offer adequate space for any type of footwear you may have on!
That's not it, though – they offer much more. The versatile media tray can be used for books, tablets, smartphones, and more. With Bluetooth technology incorporated into the bike, you can use various training apps and videos to improve your riding experience!
Bkool, Going, Heart Zones Training, imPowered BeTrained, and Spivi are all compatible and many offer various virtual worlds for you to ride in with friends and family all over the world!
The Keiser M Series app logs and analyzes all of your ride stats to let you see your progress and help better reach your goals.
On top of that, the M3i also comes with a digital display which covers all necessary stats on a single, easy-to-read screen.
---
JOROTO Indoor Cycling Bike Stationary at a Glance
:
---
Resistance: Friction, 35-pound flywheel
Pedal Type: Toe Cage, SPD clips
Weight Capacity: 280 pounds
Bike Weight: 98 pounds
Other: Device holder, water bottle holder
Earning very high ratings on Amazon, it's not only us who fell in love with the JOROTO Indoor Cycling Stationary Bike!
The best budget spin bike features a sturdy frame, nice media selections, and a smooth ride. Let's take a deeper look into why this cycle is making its way into homes all over the globe.
Let's start things off with the durable frame made from a 50mm thickened steel tube with abrasive spray paint to offer a nicer texture and feel.
The AV and stable triangle-type frame can support up to 280 pounds at a time which is a nice indoor bike choice. On top of that, it comes with magnetic resistance and a 35-pound flywheel for smooth, quiet, stable operation
As we previously mentioned, it's crucial that your bike is adjustable as we all have different postures and different bodies. The 4-way adjustable seat ensures you'll get the proper fit and also moves forward or back to adjust proximity to the handlebars.
The seat is fully-padded to offer great comfort and comes covered in leather to resist against rips or tears.
That's not the only thing that's adjustable either. Change up the resistance level simply with the conveniently located, adjustable knob. This makes it easy to perform hills or intervals rapidly which is essential to having a varied workout routine that won't allow your body to plateau.
To track your progress, you'll get a multi-functional digital monitor which shows your time spent, speed, RPM, distance traveled, and calories burned.
A large tablet holder can support a smartphone, tablet, notebook, book or whatever other media you prefer and is great if you enjoy using cycling apps.
Once you're finished up, the dual transportation wheels make it easy to move or relocate.
---
Schwinn IC3 Indoor Cycling Bike
Product 4 at a Glance
:
---
Resistance: Friction, 40-pound flywheel
Pedal Type: Toe Cage or SPD clips
Weight Capacity: 250 pounds
Bike Weight: 98 pounds
Other: Multifunction LCD display, water bottle holder
Schwinn is undoubtedly one of the most globally recognized names in the world of bikes, so it comes as no surprise that their indoor cycling bikes are just as revered.
The Schwinn Indoor Cycling Bike series is the next model on our guide. This is a simple cycle, though if you're looking for reliability and smoothness it has you taken care of.
The design is pretty straightforward and isn't anything too fancy but the gray frame and red wheels with white "Schwinn" branding around the perimeter does give it a slightly more expensive feel.
The best indoor cycling bike utilizes magnetic resistance just like all the others we've covered up until this point. With a 40-pound flywheel moved by a smooth, quiet belt drive you have limited resistance options!
To keep you moving, you have dual SPD pedals. These give you the option of using either your standard toe cages or SPD clips, which is really nice to have in case you like wearing different types of shoes or more than one person will be using it.
Comfort is a top priority, so you have padded handlebars to eliminate the risk of callouses, and a ventilated race-style seat with horizontal and vertical adjustment for the perfect fit.
To keep you entertained, a generous LCD console is connected to the monitor and displays time, distance traveled, calories burned, and RPMs.
---
pooboo Pro Indoor Cycling Bike at a Glance
:
---
Resistance: Friction, 29-pound flywheel
Pedal Type: Toe Cage or SPD clips
Weight Capacity: 330 pounds
Bike Weight: 90 pounds
Other: Multifunction LCD display
The pooboo Pro Indoor Cycling Bike definitely looks like something from the future, but we were lucky enough to be able to ride it present-day.
The all-black frame looks sleek and modern, with bright blue accents around the perimeter of the black wheel, and "Fast & Furious" printed on the sign as maybe a bit of extra motivation.
You'll get everything you need here, whether you're an absolute beginner or veteran cyclist.
With a heavy duty crank and steel frame, you can feel confident working out to your limit knowing that this one of the best indoor exercise bikes and will hold up well against regular use and wear and tear.
The 29-pound flywheel along with a belt drive with a special double-enclosed design offers constant resistance, smoothness, and a calmness that won't disturb anyone else, even if they're right there in the same room with you.
To ensure you have the perfect fit and posture, the seat and handlebar are fully adjustable so you'll never be uncomfortable or feel unnatural pedaling away. Handlebars come thickly padded for your comfort, and come with 3 different handrail modes: mountaineering mode, hill climbing mode, and flat mode.
The resistance is also adjustable to suit any type of workout and to stop the flywheel immediately all you have to do is pull the brake, keeping safety at the forefront.
The soft, ergonomically designed seat is perfect for extended workouts, and is covered in PU to prevent any rips or holes. Supporting up to 330 pounds, it's extremely tough as well, supporting almost 100 pounds more than many competitor options!
A multifunction LCD display is one of the clearest we've seen, allowing you to easily keep track of your progress and goals. The monitor shows your calories burned, distance traveled, sped, time, and heart rate.
Just like other top models, transport wheels are built into the sturdy steel frame for easy transport!
---
SOLE SB900 Indoor Cycle Bike at a Glance
:
---
Resistance: Magnetic, 48-pound flywheel
Pedal Type: SPD pedals / Toe Cage
Weight Capacity: 300 pounds
Bike Weight: 133 pounds
Other: Wireless LCD display console, can be used with chest strap
As we're now nearing the end of our reviews, we have the SOLE SB900 Indoor Cycle Bike up next. At this affordable price, it's one of the best indoor exercise bikes for what you receive.
With both indoor and outdoor cyclists giving input on what they'd like most in an indoor cycle, you can count on this design serving your needs perfectly!
Certainly one of the best home spin bikes and comes in a mainly all-black design with silver accents. Admittedly, it's not the most attractive when compared to the others we've reviewed but it doesn't look bad by any means.
Made out of heavy-duty steel, though, you can expect it to last for years to come and is hard to beat in this regard.
A 48-pound, chrome-plated flywheel and magnetic braking are also top performers here, offering an extremely smooth and consistent ride that won't bother others during the late night or early morning hours!
With an adjustable seat and handlebars you can feel confident knowing that you'll get the perfect fit every time. On top of that, the pedals have optional toe caps which is nice if more than one person will be using this cycle.
The interactive display shows RPM, time, Kcal, distance and speed. However, it's also compatible with a wireless heart rate chest strap to really maximize your results and start reaching your goals quicker.
---
Sunny Health & Fitness Indoor Cycling Bike at a Glance
:
---
Resistance: Magnetic, 44-pound flywheel
Pedal Type: Toe Cage
Weight Capacity: 300 Pounds
Bike Weight: 125.7 Pounds
Other: Large device holder, water bottle holder
Sunny Health & Fitness are quickly becoming one of the most recognized brands in the sporting equipment world due to their consistent quality available at a great price.
If you're looking for the best indoor spin bike then the Sunny Health & Fitness Magnetic Belt Drive Indoor Cycling Bike is the one for you.
Coming with a 44-pound flywheel, you'll be able to seriously strengthen and tone your legs all while keeping your workouts incredibly smooth, almost-silent, and stable.
Adding onto that, the magnetic resistance requires essentially zero maintenance, and as you have micro-adjustable resistance you'll love how it feels no matter if you're just starting out or are a seasoned pro!
No matter what the equipment is, it's important that you're able to customize it to your exact needs. The seat comes adjustable to 4 different levels along with the handlebar to guarantee that it will suit your form and individual body.
In addition, the pedals come with steel toe cages made with adjustable straps to fit all sizes and widths of feet.
Despite being so affordable, you can count on it lasting you for many years to come. The frame is made of a solid steel which is made to be extra tough and can support up to 300 pounds. T
he large, sturdy device holder makes it more entertaining to pedal along, as you can easily watch your favorite Netflix shows, workout videos, listen to music, or interact with your favorite apps!
Safety is also important, no matter what sport you're engaging in. An emergency stop brake is built in to stop the wheel it starts spinning too quickly.
A water bottle holder ensures you're always well hydrated as well. Finally, when you're finished with your workout, transportation wheels allow you to easily roll it away for safe storage!
---
Home Spin Bikes Comparison Table
How to Choose the Best Spinning Bike – Buying Guide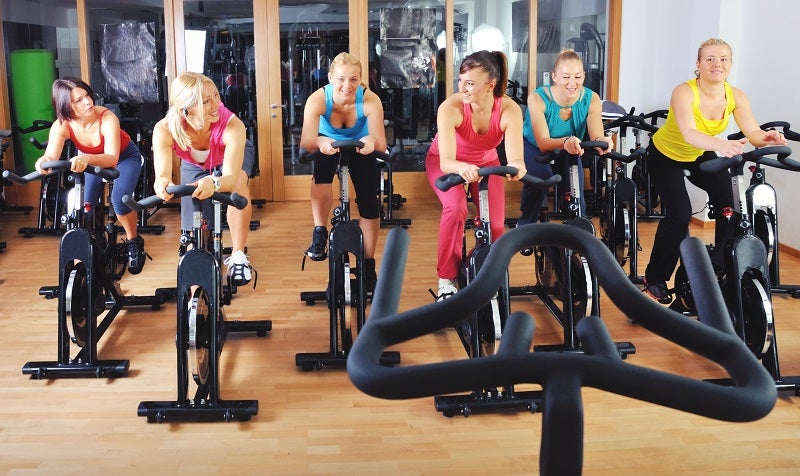 If you are new to spinning, you should probably check out an orientation class first, even if you aren't new to fitness. This will give you a good introduction and help you to get used to the feel of standing on a bike and performing different actions and motions in the process.
Most classes consist of the same basic flow, beginning with a warm-up, focusing on the full body and then eventually going into a nice cool down.
If you are looking to crank up the intensity, an all terrain class might be exactly what you are looking for. With varying levels of intensity, and with the added difficulty of hills of varying degrees of inclines, you are guaranteed to sweat.
Once you have learned what spin bikes are all about and you know you want one for your own home gym or you want one as your sole piece of gym equipment at home, this buying guide can set you on the path to picking the perfect one for you.
What to Look for in a Spin Bike
If you are like many of us, you can't always afford the time to pack up the car, go to the gym, attend a class, and go back home. That doesn't mean you have to miss out on all of those wonderful benefits of spinning.
If you do have a chance to attend a few classes and learn the basics, along with the internet and some helpful videos, you can have your own spin class right at home. But before you go out and purchase whatever spin bike you can find, here are a few things that you should consider before you buy.
Materials
With a variety of materials being used to make spin bikes, it is an important thing to consider before making your purchase.
Not only does the material affect the weight of the bike which can add or take away from the convenience level but it also plays a key role in the quality of the bike and how long the bike will last.
Hollow Steel
Generally speaking, hollow steel is the most durable material used to build a quality spin bike. Solid steel is too heavy and other materials that are not as strong as steel have a tendency to break more easily. The downside of steel is it will rust over time if kept in a humid environment like a garage.
Aluminum
An aluminum frame is another great choice because aluminum is very light and strong. It is more expensive than steel so you will need to buy a more expensive spin bike to find it. It also has the added advantage of being rust and corrosion resistant if you plan on storing you bike when no in use in a garage or other area.
Plastic
Its impossible to get away from having plastic on a spin bike but you just want to make sure that it only used in non weight bearing areas like the frame. Non of the bikes on our list use plastic as part of the frame.
Spin Bike Size
Following up with the materials and the weight of those, you also need to consider size. How much room is in your house?
Will you need to be able to move the bike easily or will it remain in one place constantly? Will it be on display or put away for storage when it is not in use?
Adjustability
Adjustability is very important to be able to use your spin bike with comfort and ease. Think about who is using the bike and the build of that person. Are they tall or short?
Do they have long arms or legs? Making sure that the spin bike you purchase can be adjusted to suit the size and build of all of the people who will use it is important.
Also, think about the tension or resistance, this decides the easiness or toughness of your workout. You probably want a wide range of difficulties so that you can push yourself harder on those intense day or take it easy on those relaxed days.
Finally, consider whether the bike is collapsible or not. If they bike needs to be folded up and stored somewhere like behind a door or in a small closet, having the ability to adjust the size by folding it up may be very helpful.
Portability
Weight – As discussed above the materials that the frame is made from is the primary determinate for the weight. On a spin bike using a fly wheel for resistance will have to be heavier than one using magnetic resistance.
Wheels – All of the bikes on our list have castor wheels on the bike so it can be easily moved around the room.
Folding – Some spin bikes can be quickly folded so they can be stored away in a closet when not in use. If you have limited space this will be something you may want to look for. If you are looking for a good selection of foldable bikes we have reviews here.

Display
Believe it or not, there are indoor cycling bikes on the market that do not include an LED display. On top of that, not all LED displays are created equally.
Figuring out what information is or isn't displayed is important. Things to look for include calories burned, time of ride, distance, and even distance per hour. Some bikes also offer special feature like, heart rate detection.
Figure out what is important to you and look for those things when you start looking for the bike that you want to purchase.
For me, I wear a fitness watch so the heart rate feature isn't as important to me but tracking my distance is very important to me because I do challenges with my friends to see who can do go the longest distance on their spin bike. Your situation may be different, so decide what matters and look for that.
Resistance Types
There are 2 different types of resistance that you're going to find on a spin bike: either friction resistance or magnetic resistance. Let's take a look at each one so you can start narrowing your options down!
Friction Resistance
This works by pressure being placed on the flywheel in order to slow it down and make it more difficult to move. Those models that operate with this type of resistance will eventually need to have the pads replaced due to wear but are typically going to be more affordable than their magnetic counterparts and are often more reliable.
Magnetic Resistance
Magnetic resistance relies on a series of magnets to set the correct tension level you've selected. The closer the magnet moves to the flywheel, the more difficult it becomes to pedal and move it. These offer several terrain types which can make for a more effective workout, especially if you're already a very experienced rider. They typically last longer than belt drive models, too, minimizing wear and tear.
Pedals
You have surely already noticed that each bike comes with different types of pedals. Some offer SPD compatibility while others have toe cages, and some offer both options! So which is the right selection for you? Let's take a look!
SPD Pedals
The cleat in your shoes is going to determine the kind of pedals to opt for. SPD stands for "Shimano Pedal Dynamic" so make sure yours are compatible beforehand. Cleats make your ride secure and consistent, attaching themselves to the soles of your shoes. This also offers more of a connection to the bike which can yield real results in comparison to other types.
Toe Cage Pedals
These are what most of us have used before, and are useful because they let you keep your feet on the pedals even as you pull up and push down throughout the stroke. This is important to help avoid muscular imbalances and work each muscle group in your legs equally.
They are located at the front of the pedals and completely surround your toes. We highly recommend going to caged designs that are adjustable to make sure your feet are well-secured.
Having both options available to you is a smart idea, as you never know what you're going to prefer in the future. If more than one person will be riding the spin bike, it's also a good idea!
How to Set Up an Indoor Cycling Bike
If you want to get the most out of your spin bike, get the best results and minimize your risk of injury then you need to know how to properly set up your indoor cycle.
Seat Position
The seat position of spin bike seats are made to be moved backwards or forwards for those who are taller or shorter than average. You want your knees to be properly aligned in comparison to your feet.
Sit in riding position on the saddle with your hands placed on the handlebars and the balls of your feet over the middle of the pedals. Ensure the pedals are even with one-another, feet in the 3 o'clock and 9 o'clock positions.
Look at the leg that's forward and envision a line going from your knee. If your kneecap is directly over the middle of the pedal then you have the right position for your saddle.
Saddle Height
Saddle height is often an overlooked part, but is more important than you may think. It's the biggest factor when it comes to your comfort and is also going to play a huge role in how well you can drive in your heel.
For example, if the seat is too high you could be missing out on a large amount of leverage. If it's placed too low you could experience knee pain and in the long-term, even injure your knees or experience further joint pain.
To start off, stand next to your bike and bring the saddle up until it's parallel with your hip bones. Once you're sitting on your cycle and with your knees over the balls of your feet and pedal at 3 o'clock with knee slightly bent with the pedal at 6 o'clock, this is where you'll max out your energy output.
Handlebar Adjustment
Just like the other parts of the bike, the handlebars will probably need to be adjusted with the height and position. You want your shoulders to be in line with your elbows and hips while ensuring you're comfortable and eliminates stress on your neck and back.
If you're a veteran cyclist then you'll probably be able to keep them at the same height as the saddle which is best for power output. However, if you're dealing with back problems then you'll want them to be higher.
Safety Check
Lastly, make sure everything is locked and secure before you start pedaling. Check all adjustment knobs and make sure it's safe and at the right resistance level for you. If you have caged pedals, have them properly adjusted to fit your feet securely and so they're not able to slip out.
FAQs About Spin Bikes
It's normal to have questions when considering adding a spin bike to your home gym. The most common question among spin bike purchasers is whether a spin bike is a good choice vs other types of bikes.
Q: What is the difference between a spin bike and an upright or recumbent bike?
A: A spin bike is designed more like a road bike. It is meant for extreme cardio, especially High Intensity Interval Training, or HIIT. This means the seat isn't usually as comfortable and the ergonomics of the bike are made for the standing and sitting routines of spinning.
A spin bike may also be referred to as an upright, but there are key differences. An upright bike is designed for exercising while sitting so the seat is usually more comfortable. A recumbent bike can allow those with balance or mobility issues to get the exercise they need.
Q: Is a spin bike ideal for seniors?
A: If you are a senior and relatively fit, a spin bike may be the excellent choice. However, if you are just starting out with an exercise routine then the lighter cardio of a recumbent or upright bike might be the best place to start. It is possible with regular exercise to be able to move up to the more advanced cardio of a spin bike.
Q: What kind of maintenance does a spin bike require?
A: It is always a good idea to wipe down the spin bike after every routine. This helps to prevent the sweat, any drinks you spilled, and more from deteriorating the bike. You will also want to give the bike a once through every so often to make sure everything is tightly secured, such as nuts and bolts.
With intense use, some of these can work loose over time. Be sure to also check that toe straps and pedals are tightly fastened. If you are handy, lubricating moving parts like the pedals will extend the life of the bike. Other than that, many indoor bikes like these need very little maintenance which makes them perfect for a home gym.
Q: Why do most spin bikes not come with a computerized console?
A: While most upright and recumbent bikes are equipped with computerized consoles that can give you stats such as your heart rate, the number of calories you've burned, your speed, and other things, most people using a spin bike don't need these things and rarely use them. Focusing on proper body mechanics, your strength and speed, and staying in control of it all is more important that those statistics for many spinners. You may find this is the same for you once you start using your spin bike regularly.
Q: What is the best spin bike for home use?
A: Keiser M3 Indoor Spining Cycle in our opinion is by far the best spin bike for home use with its quality, the range of magnetic resistance and smooth, realistic cycling feeling.
Q: Is Peloton the best spin bike?
A: No the Peloton is not the best spin bike. They have a large advertising budget and it's a good spin bike but the Keiser M3 is a far superior spin bike.
Q: Are spin bikes worth it?
A: Most definitely! A quality spin bike will last a lifetime as long as you perform some basic maintenance on the bike. Just like any mechanical device you need to maintain to have optimal performance.
Q: Is spinning a good way to lose weight?
A: Absolutely it is! In fact we can think of no better way to burn off those extra calories to lose weight and get in great cardio shape.
Q: Are magnetic spin bikes better?
A: Yes they are. A magnetic spin bike offers very precise resistance control in comparison to a spin cycle using a pad that pushes against the flywheel for resistance. No only must the pad be replaced, it's just not as precise as magnetic resistance.
Q: Is a heavier flywheel better on a spin bike?
A: In general yes, a heavier flywheel is better as it provides a smoother cycling experience. The only downside is the bike is heavier and more difficult to move.
Q: Can an HIIT workout also be performed on an upright or recumbent bike?
A: While other bikes, such as a recumbent or upright bike, can also be used for HIIT workouts, a spin bike is specifically designed for these types of exercises. You can get the most out of High Intensity Interval Training when using a spin bike over other options you may be considering. If you are already used to HIIT, a spin bike is probably your best option. If you need to work your way up to that, you may also be able to use your spin bike for more leisurely exercise until then.

Tips for Using Your Spin Bike
Once you've decided that a spin bike is the right choice for you, it's time to learn how to get the most out of its use. Here are some tips for you…
Tip #1: Use Proper Form
Just as with any exercise, it is important to use proper body mechanics when using a spin bike. Be sure to tighten your core as you spin to help build your ab muscles but also to support your back and chest as you spin. When moving into a standing position, use your whole body so you don't injure yourself. Always be in control of the speed of the bike by using legs, arms, and core simultaneously.
Tip #2: Compete with Yourself
It's never a good idea to compete with others when it comes to exercise. You don't know how long they've been training or how they take care of themselves. They most likely participate in other exercises that may be different from your own that will change the way they use a spin bike. However, competing with yourself is a different story. You can always try to get just a few more minutes out of your workout, you can increase the resistance, or try more challenging routines to up your spin game.
Tip #3: Use Resistance, But Wisely
Resistance is what helps to build the muscle while you are engaging in a very fast paced exercise. While much of the focus of HIIT on a spin bike is focused on cardiovascular exercise, using resistance can help to build or tone muscle depending on your goals. Getting both a great cardio exercise and building muscle at the same time can help you to shorten your overall workout routine as you may not have to do several other exercises to get the same result.
Tip #4: Have the Right Gear
If you were to go for a jog, you would have proper running shoes. Just as with running, you need to use proper gear when spinning to make sure you are getting the most out of the time you spend doing it, but also to avoid potential injuries. Many of the injuries caused by using a spin bike are caused by poor body mechanics or not wearing the right shoes, wearing proper spin shoes for HIIT training, etc.
Tip #5: Invest in a Good Spin Bike
A spin bike is meant to be used on a regular basis and the exercises are intense. This means that you want to get a good spin like the Keiser M3i that will last a long time. Durability is the name of the game and should be your first requirement when choosing the right spin bike for your home gym. If multiple people will be using it, this is even more important.

Final Thoughts
In the end, there are many indoor cycling bikes to choose from with a wide range of features, quality levels and even price points. Generally, the saying is true, you get what you pay for.
However, what's most important is that you choose one that perfectly suits your goals, body, and experience level. We hope that our guide was able to help you do just that.
But there is the rare occasion where you can get a really good deal for a great quality bike. You just have to look for them, know what you want and try to figure out which option is the best for you.
How We Researched
To come up with the top spin bikes, we researched a variety of sources for reviews such as Best Buy, Walmart, Target and Sears along with our own personal experience.
The authors consulted sources such as online magazines for research and reviews unbiased information.
By using Fakespot.com we tried to eliminate fake reviews and use only genuine ones.
With so many options available, the authors narrowed down the selections by using products they felt were the best value for the money.
The staff authors have a wide and varied background as fitness trainers, yoga instructors and runners. The authors have decades of experience and are eager to share their knowledge with readers.
In order to narrow down the options, we used personal experiences plus recommendations from other trainers and instructors.
Sources
---
I hope this guide was helpful for finding the best spin bike to fit your needs. If you want to comment or recommend a bike I didn't include, please use my contact form to get in touch.
Have fun and enjoy your workout!
Notice:
BestWomensWorkouts is a participant in the Amazon Services LLC Associates Program, an affiliate advertising program. BestWomensWorkouts earns fees from products sold through qualifying purchases by linking to Amazon.com. Amazon offers a commission on products sold through their affiliate links.